Web3's most anticipated non-fungible token (NFT) conference, VeeCon, has come and gone, but not before leaving a lasting impression on attendees, and maybe the market itself.
So what did Gary Vaynerchuck's second annual VeeCon teach us?
Let's just say, the state of NFTs is strong.
Builders and brands are pushing Web3 forward with innovative products and solutions, but it's the collectors and communities that are showing the real strength of NFTs in the bear market. 
VeeCon was my first NFT event, and it moved me.
Connecting with the lifeblood of the NFT scene, the community itself, filled me with renewed hope that Web3 is headed in the right direction. I wrote some quick thoughts on my experience at VeeCon on Twitter.
MEGA GMs! Some thoughts on #VeeCon2023

NFTNYC is the Woodstock of NFTs. VeeCon is the State of the Union of NFTs, and after interacting with so many people at VeeCon it's safe to say the state of NFTs is strong.

The community is now battle-tested after some pretty low lows… pic.twitter.com/OVD5H1JLVo

— hudah.eth|tez (@Hudah_Idiot) May 22, 2023
Maybe the most noteworthy takeaway from VeeCon was that the term "NFT" was rarely mentioned. Instead, it felt like the assumed topic on hand. And that, my friends, means the NFT space is maturing.
What was discussed was the importance of empathy, focus, networking, and building strong products. Those messages were delivered by real-world titans like Daymond John, Scooter Braun, Drew Barrymore, Timbaland, Jessica Alba, and countless NFT influencers, top-tier traders, and project leaders on panels across the 3-day conference. Most of these panel speakers already share their insight frequently on Twitter Spaces, so for some, there wasn't much to be learned. But if you're not tuned into the NFT scene 24/7, the wisdom shared was invaluable.
Gary Vaynerchuk ended VeeCon by delivering his keynote speech where he implored the audience to remove fear from their life, to embrace micro losing if they want to macro win, and reinforced his lifetime commitment to building his ever-growing VeeFriends community.
Love him or hate him, Gary's words touch a legion of fans around the world, and now with VeeCon 2023 at a close, we'll get to see who and what his words inspire.
Noteworthy Happenings
While a large part of the NFT space was attending VeeCon the market itself had some interesting happenings that can't be ignored.
The Bitcoin ecosystem reached a new milestone in the past week, with a BTC project reaching the top of the NFT Collection Rankings by Sales leaderboard in a 24-hour period. That project was the Bitcoin Frogs, who on Friday outsold every other NFT project, including Bored Ape Yacht Club (BAYC), with over US$2.3 million in sales volume.
Another Bitcoin project has held the top spot in the NFT collection ranking by sales for the past seven days, as Space Pepes has traded almost US$7.5 million in secondary sales.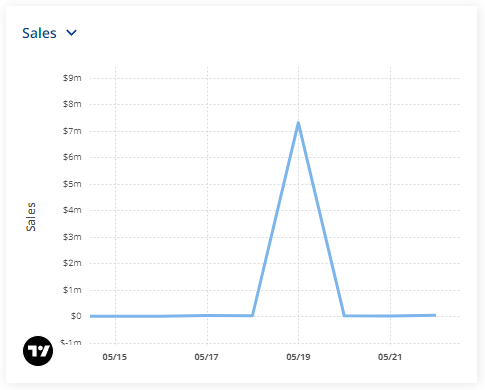 Three Arrows Capital, the now defunct crypto hedge fund, had some of its prized NFT assets auctioned off at Sotheby's and surpassed expectations. US$2.5 million in sales have been completed so far, with the standout being Fidenza #725, which sold for over US$1 million.
The Pudgy Penguins released a collection of physical action figures, complete with accessories for customizing your new adorable companion. Over 20,000 figures were sold in just two days, bringing in around US$500,000 in sales. The NFT collections' sales have benefited from the new exposure, increasing by over 30% in the past seven days.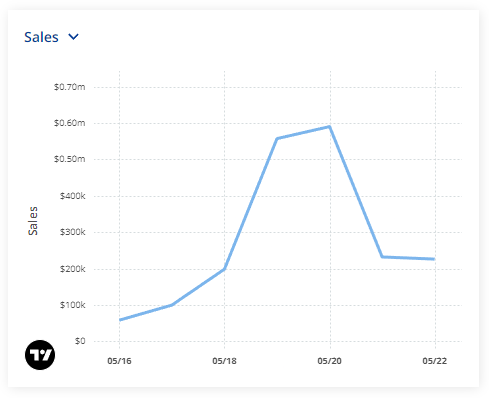 Yuga Labs' HV-MTL collection revealed causing a brief spike in sales, followed by disappointment with the art, but optimism for the future.
Peep the Charts
The past seven days in NFTs have been all about Bitcoin Ordinals, which now represent three of the top 10 collections. BAYC has been dethroned for now, with two Ordinals projects and Mythos Chain's DMarket all outselling the NFT community's favorite apes.
Speaking of Bitcoin, the original blockchain continues to do serious numbers, now firmly holding the number two position on the blockchain by NFT sales volume leaderboard each day. The three to 10 spots are where we see plenty of jockeying for position as gaming NFT-heavy chains like Solana, Mythos, Immutable X, and Polygon all continue to grow their respective market shares.
Wash trading, while down 7%, still represents almost 50% of all NFT sales on Ethereum.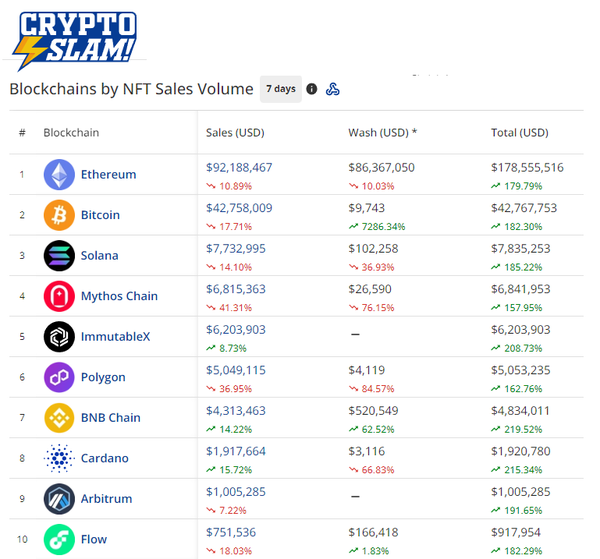 NFT Forkast
The Forkast 500 NFT Index is up 0.1%, trading close to even, thanks primarily to the Ethereum NFT ecosystem propping up the global ecosystem. While Solana, Cardano, and Polygon are all down, the Forkast ETH NFT Composite is up over 2% from the hype of VeeCon, large individual NFT sales, and blue chip projects like Pudgy Penguins having green weeks. 
The NFT community is now back to the grind following VeeCon 2023, and so is the CryptoSlam crew. Keep your eyes fixed on cryptoslam.io and the Forkast NFT Indexes to see how the NFT market is impacted by the return of some fired-up traders.