Salesforce Inc. said today it's adding new generative artificial intelligence and real-time data capabilities to its Sales Cloud, Service Cloud and Data Cloud offerings.
The updates include an enhanced version of Einstein, which is Salesforce's trust AI assistant for all things customer relationship management, and a new version of Tableau specifically for sales teams. The new additions to Salesforce's toolset were announced at the World Tour New York event today, where the company explained that it's hoping to tap the powers of generative AI to maximize seller efficiency.
Much of the attention was focused on the launch of Einstein GPT, a supercharged version of Einstein AI that's now available to select customers in closed pilot. Einstein GPT for Salesforce Sales Cloud can perform a number of useful tasks, the company said, with one of the main benefits being its ability to automatically generate extremely personal and relevant prospect emails to contacts based on their CRM data. The idea is that salespeople will spend less of their time writing, freeing them up to focus on the actual selling process.
Einstein AI gets some other interesting enhancements too. For instance, Einstein Bots for Sales is a new capability that can automate lead conversion and prequalify web visitors so sellers can talk to the best prospects at the right time. In addition, Einstein Conversation Insights powers what Salesforce calls "AI-driven sales coaching" by providing insights to sellers through conversational and transcription analysis, highlighting what sellers did write in their conversations with prospects, and also parts of the conversation where they could have done something different.
"B2B selling is moving from intuition-based to data-driven and from episodic sales stages to connected customer journeys powered by generative AI," said Ketan Karkhanis, Salesforce's executive vice president and general manager of Sales Cloud. "Whether it's autonomous prospecting, surfacing real-time insights when you need them, or automating time-consuming tasks, AI is the new UI for every seller."
Einstein GPT is also being introduced in Salesforce Service Cloud, the company's customer support platform. Einstein GPT for Service draws on generative AI to personalize each customer's experience, while providing hints and tips to agents to improve their efficiency and help them to resolve issues faster. With Einstein GPT for Service, customer support teams can auto-generate responses, automate the creation of knowledge base articles and then generate case wrap-up summaries from trusted data sources.
Sales teams will in any case be able to put much more trust in the data they work with. The company explained that it's enhancing a number of existing products with real-time data from the wider CRM platform to help sales people find more opportunities and plan and manage growth.
For instance, Tableau for Sales is a new offering available now that leverages both Data Cloud and Einstein GPT for self-service exploration of any dataset, with recommendations on actionable strategies for revenue growth. Another new offering, also available today, is Activity 360, a tool that captures all activity data from across Salesforce and integrated third-party sources, providing business leaders with a real-time view of all sales activities.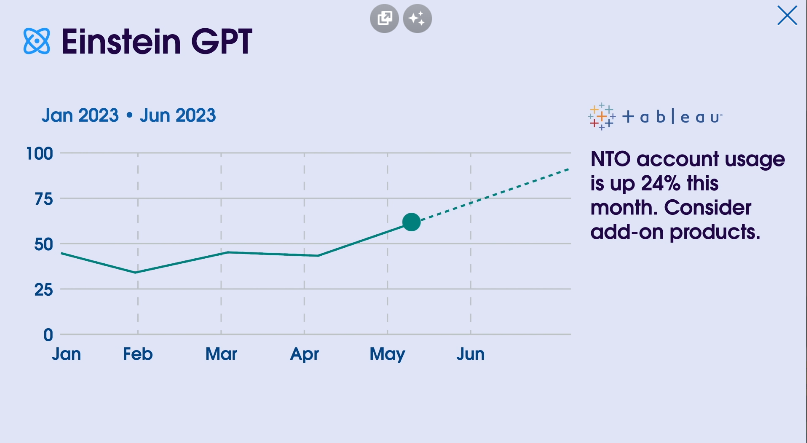 Elsewhere, Sales Cloud gets a new Sales Planning tool that makes it easier to quickly construct new sales plans aided by CRM data. It includes features for allocating capacity, territories, quotas, compensation and more. Sales Cloud also taps Einstein GPT to allow representatives to create simple, auto-generated reordering portals for customers that would like to repurchase products. Meanwhile, Pay Now makes it simple to embed payment capabilities into any invoice, email or SMS. These capabilities will all be made available by June.
Finally, Service Catalog is a new offering that promises to automate the fulfillment process for common scenarios such as parts replacements and product returns. Teams can build these automations from a library of workflows and implement them across any touchpoint using a low-code interface. Service Catalog will go live later in the summer, Salesforce said.
Images: Salesforce
---
Your vote of support is important to us and it helps us keep the content FREE.
One-click below supports our mission to provide free, deep and relevant content.  
Join the community that includes more than 15,000 #CubeAlumni experts, including Amazon.com CEO Andy Jassy, Dell Technologies founder and CEO Michael Dell, Intel CEO Pat Gelsinger and many more luminaries and experts.
THANK YOU