Sejal Dagli, attended an online class in November last year to learn about non-fungible tokens (NFTs). Egged on by a zeal to learn about new technologies, the 35-year-old yoga teacher in India took to creating NFTs of her own to better understand the process. 
In January, when her son Vivaan wanted to create a three-dimensional image of an elephant listening to music, as part of a school project to reflect life in the pandemic, Dagli suggested turning it into an NFT.
The 10-year-old took to the project with gusto with help from his mother, eventually listing it on OpenSea. 
"He [Vivaan] is into NFTs because he's more into technology," Dagli told Forkast. "And of course, he is creative as well," she said. "So I want [him] to put both of them [talents] together to make his own identity for himself." 
The mother-son duo's passion echoes a broader trend of rising interest in NFTs in a country uniquely positioned to be the still-nascent industry's most promising market.
India is home to the world's largest population of youth, the world's second-most valuable sports property on a per game basis, a movie industry that produces the most number of films globally and an equally valuable music industry as evidenced by one of the world's most popular YouTube channels. 
India ranked first in terms of NFT gaming adoption with a little more than a third of respondents from the country saying they were involved with NFT games, according to an online survey in March by Finder.com. Another 11% said they planned to play this year. 
The survey polled Internet users in 26 countries, with sample sizes ranging between 1,000 to 3,800 people per nation in direct proportion to their population. 
The interest is being driven by a profit motive, BuyUcoin.com's Atulya Bhat told Forkast. "That's where the majority of trading volume is coming from," said the co-founder, and chief marketing officer (CMO) of iBlock Technologies Pvt. Ltd. which operates the Indian crypto exchange with its own NFT marketplace.
This comes amid a tepid market for NFTs. 
NFT sales tracked by CryptoSlam dropped to US$3.07 billion in May compared to US$3.72 billion in April with the average sale price falling to US$494.53 from US$598.53. With only ten days to go, NFT sales worth US$594.28 million were registered in the month of June with the average price dropping to US$185.70. 
See related article: Bumper April helps NFTs break out of bear-market territory
Despite that, the Daglis continue to believe in NFTs' future potential. "Earlier, NFTs were mainly focussed on art, but with an increase in their utility, NFTs have a high potential for growth," she said.
Then there is also a small section of NFT traders simply looking to support their favorite artists and celebrities — a segment that could give a fillip to the industry, Bhat said. 
"NFTs have attracted a lot of new audiences into the crypto space, not just crypto investors," Bhat said. "Actual fans and people loyal to the artists and the people who are interested in buying these assets and keeping them in a digital form," he added. "We have seen a lot of interest in terms of that."
Fan Firepower
That firepower was evident when NFTs related to Bollywood superstar Amitabh Bachchan went on sale in November of 2021. 
Over six million bidders reportedly sought to buy the 5,000 NFTs on offer, with the collection getting sold out in an hour for about US$1 million. Over 65% of the bidders were from India.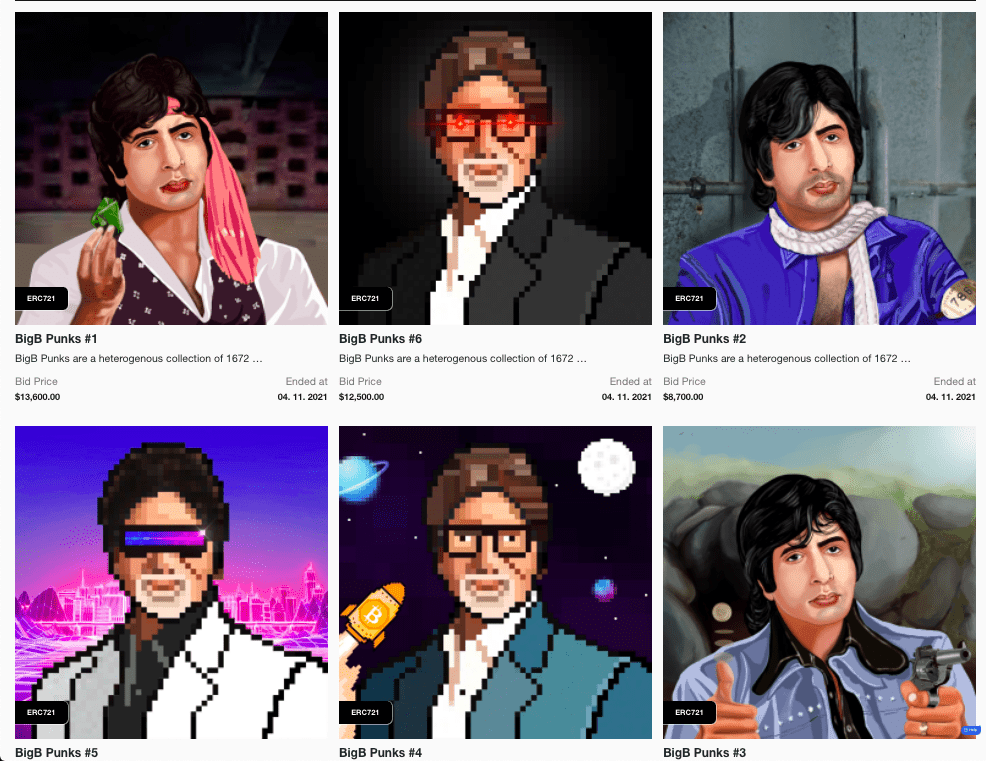 The NFTs, sold on the BeyondLife.club marketplace, included the 'Madhushala' collection, narrations by the actor of the sonnets written by his poet father Harivansh Rai Bachchan alongside the actor's vintage posters featuring seven autographed posters, among others.
See related article: Bollywood megastar Amitabh Bachchan is launching his own NFT collection
The launch of the Bachchan NFTs "created the market in India," Ramkumar Subramaniam, cofounder and chief executive officer (CEO) of Guardian Blockchain Labs Pte. Ltd. told Forkast. The Singapore-based firm operates GuardianLink.io which partnered with Rhiti Entertainment Pvt. Ltd. to launch the NFTs.
In a country of more than 1.4 billion people, Indian celebrities have hopped onto the NFT bandwagon in an effort to monetize their following of millions. 
Indian film actors Salman Khan, Rajnikanth, Kamal Hassan, Sunny Leone, and cricketers Sunil Gavaskar and Yuvraj Singh, are among the celebrities who followed in the footsteps of Bachchan in launching their own NFT collections. 
Some 70% of the about 100,000 active NFT traders on GuardianLink are from India, Subramaniam said. The marketplace has sold around 85,000 NFTs in primary sales since 2020, with over 300 NFTs on average being traded in secondary sales per day, he said. 
BuyUcoin.com, which launched its NFT marketplace in May last year, has facilitated around 7,100 NFT trades to date, onboarding over 2,400 NFT creators, Bhat said.
Where there's money
But where there is money, there is India's taxman.
Bachchan had to reportedly pay about US$130,000 (about 10 million Indian rupees) towards a levy after authorities sent out tax evasion notices to investors trading in cryptocurrencies and NFTs. 
The assets were included in the definition of Virtual Digital Assets (VDA) when Indian Finance Minister Nirmala Sitharaman amended the Income Tax Act, bringing them under the purview of the country's tax department. A 30% tax on profits made from crypto trading came into effect in April with an additional 1% factory-goods levy set to kick in July. 
See related article: India's tax bogeyman is scaring off young crypto investors
Both Bhat and Subramaniam conceded that the taxes coupled with the bear crypto market has dented interest in NFTs. 
The tax "did impact [NFT interest] in the same way [as crypto] — the clarity (on tax) isn't there," Bhat said. 
There's a lack of clarity on how NFT profits will be taxed in case of multiple transactions, Bhat explained. For instance, if a creator makes a loss on one NFT, would they be able to offset that against profits made on others, Bhat asked. 
To be sure, the amended tax law does not allow any losses to be offset against profits made on any virtual asset, unlike some other asset classes such as equities and property.
Nipped in the bud? 
The tax has dampened the enthusiasm of some who were beginning to explore the prospects of NFT trading, Kaparthi Jonnalagadda told Forkast. 
People on a tight budget who "wanted to try out NFTs couldn't because of the tax," Jonnalagadda said. 
Even NFT artists haven't been left unscathed.
Because of a lack of clarity in the tax regime, "a lot of the creators were scared and mostly everyone wanted to actually make more sales before (the) 1st of April," an Indian NFT creator based in Australia told Forkast.
"I feel that because it's a straight-up tax, not based on any of the income levels, it is slightly unfair on all these small (scale) creators who are actually trying to make a living out of this," the person who operates the Twitter handle Cryptog0d.nft said. 
Some creators have had to increase the price of their NFTs by 30% to account for the tax, one of the top NFT creators on the marketplace operated by Indian crypto exchange WazirX.com told Forkast.
The higher prices are a dampener as the wheat gets separated from the chaff. 
"The blue-chip NFTs and the ones that really matter, where people see value, are the ones that are getting sustained," Subramaniam told Forkast. 
Earning profits from NFTs has become increasingly difficult and mostly the traders who use automated bots are able to turn a profit, Jonnalagadda said.
Two years ago when the market was nascent, "whatever you touched, it would turn into gold," but post the tax, profiting from NFT trading is "not a piece of cake anymore," he said. 
India has the potential to become one of the world's biggest markets when it comes to NFTs owing to its demographic dividend, high internet penetration, and high digital adoption, especially amid the Covid-19 pandemic, Subramaniam said. 
India had one of the highest adoption rates for digital technologies in health and human services as the pandemic accelerated the uptake of such means, according to the "Embracing digital: is COVID-19 the catalyst for lasting change?" survey by EY and the Institute for Global Health Innovation at Imperial College London.
"If you take a look at it, we are the biggest adopters of the app economy," Subramaniam said. "So I definitely see the same [happening] with Web 3.0," he said. "We are probably the third-largest player in terms of trading crypto, so NFT is not far behind."