Armed with a new artificial intelligence model, Google LLC is adding 24 more languages to its Google Translate app.
The new supported languages, announced at the search giant's I/O developer conference today, include dialects that are spoken by more than 300 million people across the world, the company said in a blog post. The most widely spoken new language is Bhojpuri, which is the mother tongue of about 50 million people in northern India, Nepal and Fiji. Sanskrit, meanwhile, is spoken by just 20,000 people in India.
Other new tongues include Aymara, which is used by people in Bolivia, Chile and Peru, and Guarani, which is spoken by millions of people in Paraguay.
Google said those two languages, as well as Quecha, are the first indigenous languages to be supported by Google Translate. In addition, a new English dialect, Sierra Leonean Krio, has been added.
Google Translate now supports 133 languages but the most notable thing is that all of the new ones added today were introduced using Google's Zero-Shot Machine Translation technology. This is a new artificial intelligence system that's able to create a machine learning model that learns from monolingual text. In other words, it "learns to translate into another language without ever seeing an example," Google explained.
Given that it's still a new technology, Google admitted that translations in these new languages won't be entirely perfect. However, it hopes that through continued development and with people using the app, Zero-Shot Machine Translation will eventually improve to deliver the same kind of translation quality that we come to expect from English to German, or other common languages.
Google also published a second blog post plus a research paper that provides a deeper dive into Zero-Shot Machine Translation.
Advanced search capabilities
Also at I/O today, Google revealed a number of updates in Google Search. The first pertains to the recent launch of multisearch, which is a new feature introduced earlier this year that lets users search with text and images at the same time, similar to pointing at something in real life and asking a friend about it.
Multisearch now provides a way to find local information, so users can discover what they need to know from hundreds of local businesses around them. For example, users can use a screenshot of a restaurant and add the text "near me" to find local restaurants that offer a similar menu. It even works with individual dishes.
"For example, say you see a colorful dish online you'd like to try – but you don't know what's in it, or what it's called," Google explained in a blog post. "When you use multisearch to find it near you, Google scans millions of images and reviews posted on web pages, and from our community of Maps contributors, to find results about nearby spots that offer the dish so you can go enjoy it for yourself."
Google said local information in multisearch will be added later in the year. Initially it will only support English, but Google plans to add support for more languages in time.
That's not all, for Multisearch is getting a second new feature called "scene exploration" that allows users to pan their camera over a scene and glean insights about multiple objects within it. People at a candy store could scan an entire shelf of chocolate bars to find out more information about each one — such as if it's nut-free, dark or milk chocolate, or something else. As they scan the shelf, Google Search will overlay insights about the chocolate bars.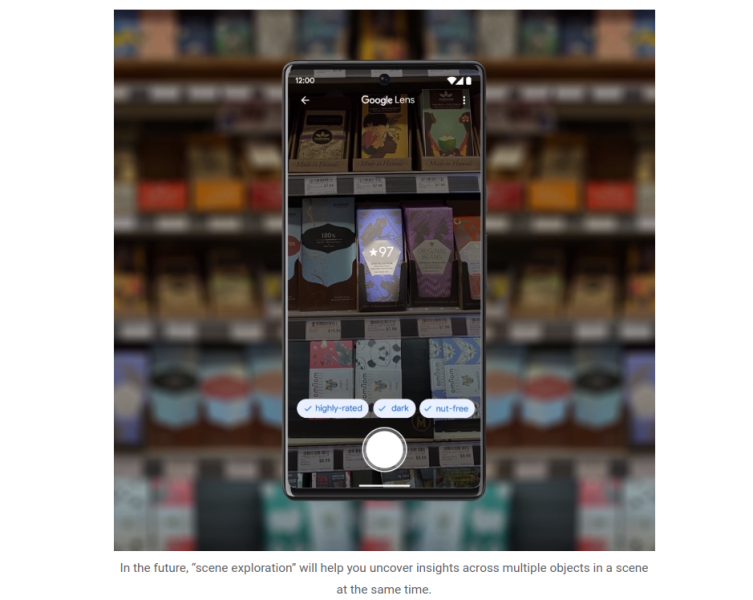 Google called scene exploration a "powerful breakthrough in our devices' ability to understand the world the way we do."
Finally, Google Search is adding a new tool to help people remove personally identifiable information about themselves that they discover has been posted online. A recent update to Google's policies enables people to request the removal of search results that contain sensitive information such as their contact information or home address. The new tool will be made available soon, making it easy for anyone to request such details are removed from Search.
Images: Google
---
Show your support for our mission by joining our Cube Club and Cube Event Community of experts. Join the community that includes Amazon Web Services and Amazon.com CEO Andy Jassy, Dell Technologies founder and CEO Michael Dell, Intel CEO Pat Gelsinger and many more luminaries and experts.